Footy  Class Association

+

Birkenhead Model Yacht Club

 

                           
Footy Euro GP 2009
Sat/Sun, 18-19 July 2009 
Results and Race Report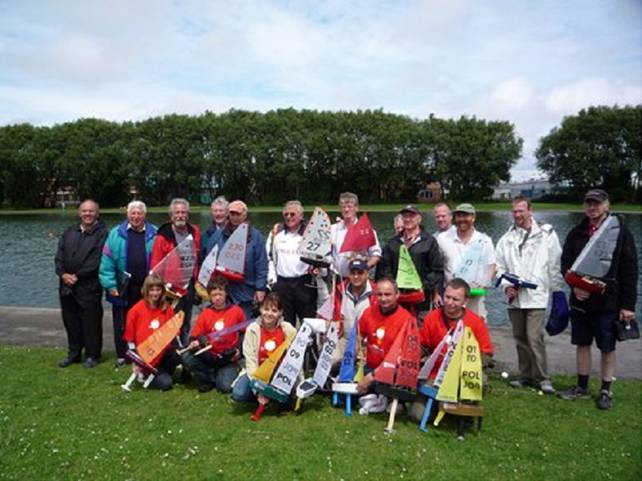 Jeff Hill ?? Bill Hagerup Trevor Thomas Peter Jackson Peter Hubbard Andrew Halstead Animor Dobrovich Trevor Jenkins Gary Sanderson Graham Elliott Vernon Gee
Flavio Faloci
Karolina Litwicka, Piotr Szlachcic,  Violetta Dejnak,  Krzysztof Litwicki, Pawel Dejnak
The Usual Suspects!
RESULTS
1   GRAHAM ELLIOTT         GBR99     RICHARDSON AKELA2
2 -BILL HAGERUP              USA427    HAGERUP RAZOR3
3 -TREVOR THOMAS          GBR147    THOMAS MISTRALETTE
4 -VERNON GEE                GBR172    GEE ONE-OFF
5 -PETER JACKSON            GBR230    JACKSON WHITE KNIGHT
6 -GARY SANDERSON        GBR13      SANDERSON MONGOOSE
7 -PIOTR SZLACHCIC        POL05        DEJNAK OPAŁEK
8 -FLAVIO FALOCI             ITA05        FALOCI PRESTO
9 -PETER HUBBARD          GBR27       HUBBARD STARLIGHT
10-KAROLINA LITWICKA   POL02         DEJNAK OPAŁEK

JUNIOR

1-PIOTR SZLACHCIC          POL05       DEJNAK OPAŁEK
2-KAROLINA LITWICKA      POL05       DEJNAK OPAŁEK
So they came, they sailed, they had fun.
Birkenhead Model Yacht and Powerboat Club once again did a superb job of hosting the Footy Euro GP with the rules enforced with a light touch to the satisfaction of pretty much everyone.
Personal and health problems and the state of the US economy meant that entries were a little down on what we might have wished. To make up for this, the hugely enthusiastic Polish contingent of 7 helped make the regatta the most international yet in the history of the Footy class. When they arrived, their boats were not very well adapted to our 18 mph winds – you don't get conditions like that in Wroc­ław but they persevered with ingenious arrangements of reefed mainsails and at least one jib that suffered the indignity of the scissors. One thing you definitely could not say was that they lacked enthusiasm or determination. On the Sunday the three Polish juniors in particular had been lent British boats and were proving to be very able sailors indeed.
On the hard, factual bit, the meeting was totally dominated by Moonshadow – sailed by Graham Elliott of Birkenhead, built by Brett McCormack and designed by Angus Richardson which was discarding first places. How much of this is due individually to Graham, Brett and Angus is debatable, but the result was pretty much invincible. Moonshadow is long (320 mm), light (335 g), narrow (88 mm) and heavily ballasted (210 g). She won almost every start (Graham) but then blasted up to windward in the 18 mph winds of Saturday with an A2 rig when many boats were under 300 mm rigs. The most interesting thing about all this was that, once it was certain Moonshadow was going to win, Graham handed the transmitter to Karolina Litwicka of Poland (age 15) who promptly took yet another first to rapturous applause from those on the bank.
A very consistent (and popular) second was Bill Hagerup's new Razor 3. With moderate beam, moderate displacement and a rather narrow stern, she was never quite up with Moonshadow but was always lurking. People apart from Bill who have sailed her say that she is a very easy boat indeed to sail. With her single chine hull she should be easy to build and we look forward to the publication of her design – or even better a proper kit.
Third was Trevor Thomas familiar Mistralette. If I get it right this time (I got shouted at last year) she is fairly wide with moderate to heavy (say 460 g) displacement. Like virtually every boat in the event she has a McCormack rig, but she does stand out with her beautiful planked balsa hull, 'mock' planked deck and elegant curvaceous transom.
It is interesting that Bill and Trevor ended up in second and third places respectively last year.
On Saturday these boats dominated – more or less consistently in that order. One could not say that the event was a disaster – great fun was being had by all -  but frankly, as a competition it had all the pent up interest of a local council election in Barnsley in 1965.
On Sunday the wind dropped a bit and things livened up a bit. Competition for third place hotted up. Moonshadow fell into a gap between two rigs and was beaten a couple of times. The boats potentially in the money included Gary Sanderson's new Mongoose. This boat came to the meeting more or less straight out of the box. She is very much in the Sanderson school – light, narrow and with a cod's head and mackerel's tail, but this time built (beautifully as ever) of hard chine ply.  Her nerve-jangling bright green made her hard to miss and attracted much (largely ribald) comment. She was the only boat in the regatta to sport a swing rig, which did not seem to confer any particular benefit. She also had McCormack rigs available. I sailed her in one race and found her very twitchy to sail – but I am a lousy driver, so that does not say very much. Her sixth place overall is partly accounted for by a number of DNSs on Saturday while Gary was – as ever – being the Christian gentleman he is and helping others sort out technical problems. I am sure that she has a great deal of untapped potential and that we will be seeing more of her.
Another interesting boat was Vernon Gee's one-off (I haven't found the name of the design). This was high and heavy with lots of rocker and a rather U-shaped transom. Reasonably reliable rumour has it that the plug for her was made from one of the old Star toy yachts (which were built in Birkenhead) with the ends chopped off. Certainly her bow waterlines were brutally snubbed in a way not seen since Angus Richardson's original Dingo. She went increasingly well as time went by, which suggests that more practice beforehand would have put her up in the prizes. She ended up with a very creditable fourth overall.
Peter Jackson's White Knight was another boat that was almost up in the prizes. Nicely made of glass (there are a fair number of them afloat) she had high freeboard and a generally chunky appearance. She must have got quite a lot of things right, since she ended up 5th overall, but I never got the chance to look at her in detail.
Then there was the Polish Navy – a fleet of 7 Opałeks designed by Pawel Dejnak. Had the wind been lighter – or if they had come with smaller rigs – they would undoubtedly have fared much better than they did. As it was they were badly overpowered and attempts at emergency surgery meant that they were badly balanced and difficult to tack. When the wind dropped on Sunday, they did much better. When the Polish team left we were presented with POL 2 and secret trials by Messrs. Hagerup and Sanderson in Llandudno suggest that she is actually a very capable boat when correctly canvassed. The hull is single-chine (one chine a side and V-bottom), displacement moderate, beam narrowish, the transom deeply immersed, rocker quite low. Although Pawel has gone home bursting with ideas, photographs and drawings, there is no doubt that Opałek is a very satisfactory starter design, particularly given her clever construction, which has a laser-cut centreline structure and frames that slot together and a styrene sheet (Plasticard) skin.
I am very embarrassed that I cannot tell you anything about Peter Hubbard's Starlight design except that she was black and a little on the tender side. She managed 9th.
Then there were the two Faloci designed gaff cutters. To say that they were elegant is an understatement. After Folgore's performance last year, I was slightly disappointed by the way in which they sailed – but Flavio's overall result of 8th is far from disastrous. I had little opportunity to talk to Flavio but observing from afar I got the impression that the big 'genoa-like' club-footed jib needed further development. Particularly off the wind the club skyed causing grossly excessive twist – and so very little drive. It would be very interesting to combine the rig with a lighter hull. The result might astonish a lot of people.
Question. Should we require protectors on long bowsprits as we do on transmitter aerials? In some minor fracas Flavio impaled Mongoose: her bowsprit went straight through Mongoose's mainsail and they drifted helplessly across the lake locked in some sort of nuptial dance.
The other boat of technical interest was Andrew Halstead's Sloice. This is another Halstead 'physical thought experiment' – like what happens if we make the hull an aerofoil (seen from above). The answers do not seem very promising. Sloice does sail reasonably well but lacks any real sparkle and has very pronounced nose-diving tendencies. But surely this is what Footys are about. There are some fairly obvious reasons why Sloice should not work. There are also some good grounds for believing that she might. All Hail to Halstead for having the guts and energy to actually make the experiment – and doubly so for risking the catcalls by bringing the result to such a high-profile meeting as Birkenhead. Classes like the Sydney 36s suffer because all the boats are 'way out'. There is no 'sensible' standard against which to compare the novelties. The Footy mixture of the weird and wonderful like Sloice and the well-developed mainstream like Mistralette means that there is a reasonably firm basis against which to evaluate the Sloices – so long as people like Andrew keep on coming up with them.
I said technical interest. There is no way in which we can ignore Animor Dobrovich's beautifully built Razor Pinguino 2. She may not break much ground in the way of technology, but she is a fine tribute to Animor's building skills and commitment.
For pictures, see the RCSailing Website, Photobucket or Youtube – in particular
http://s222.photobucket.com/albums/dd159/andrewh_photo/Footy%20sailing/Euro%20footy%202009/?start=all
(password 'footy' in LOWER case)
http://s168.photobucket.com/albums/u177/ViPD/FOOTY/FOOTY%20EU%20GP%202009/?start=all
http://www.youtube.com/watch?v=7prxmUa0fKo
http://www.youtube.com/watch?v=4BeAsrULz6s
And finally the human side. The Polish kids really made the meeting. Initially rather shy they turned out to speak English quite well and everyone liked them tremendously. They were also very good sailors. Could we in Britain have some native products please?
Trevor Jenkins is an amazingly talented race officer – not so much in terms of pure technique (although he's no slouch there either) as in his ability to keep things going at a brisk pace with smiles on everyone's faces and an attitude to the minutiae of the rules that kept everyone happy. He could only come from Merseyside (he'll probably tell me it's Deeside but – so?). Everyone's thanks to him.
Now to the Grand Old Men and Lady Members of Birkenhead. They turned out in force, fed us on butties and tea, provided untold helpful advice and assistance. Birkenhead may have a string of current superstars of model yachting – but it also has a huge base of very experienced older sailors full of wisdom and good humour. It is difficult to see where we could have got a better venue.
Finally – and far from least importantly – wives. Two turned up – Ingalilla Dobrovich from Sweden and Violetta Dejnak from Poland. Violetta was part of the sailing team – although for various reasons she did not actually do a lot. However, I have a strong suspicion that Ingalilla intended to decamp to see the sites of Liverpool. In the event she stuck around and claims to have had a superb time. Remember gents, these events may be more wife-friendly than you think!
I think that this event marks a distinct step forward in the growth of the Footy Class. Let's all club together to capitalise on what has been achieved.
A very happy
Ogre