Return to NEWS
Footy event at Southwater Dabblers - 7th January 2007
The 35 mph south-westerly wind forecast was exciting as the BUG prototype has only been sailing in its small rig once and I was keen see how it performed. The Southwater lake is quite large, but is in a hollow where clay for the famous Southwater bricks was dug. It is also surrounded by trees so that the south-westerly wind reaches the water surface in a series of random swirls, downward gust forces and airless holes; nothing like the forecast. The rather out of focus photograph below shows the two leading boat's close together on virtually the same course but on different tacks!
The maximum gusts, around 18 mph were too strong for the BUG's 500 mm high sail plan that was first rigged for the average wind strength, so the 300 mm small rig to the class rule was used as anticipated. 10 or so small sausage course races were sailed initially with a fleet of 8 boats that eventually became 3 at the end. Richard Alford's Footloose and 420 mm high rig won every race, going very well to windward and only suffering off wind in the gusts. Its easily driven shape performed the best in the leftover waves when the wind died. BUG liked the stronger steadier breezes and had no problem off wind even when the bow was driven right under, when others were broaching out-of-control all over the place.
BUG was more or less equivalent to the best of the Bobabouts sailed by Bill Letten. All these little boats are so light that it is dead easy to stop instantly or crash into reverse and to sail them well is quite a challenge in such variable conditions. However they do turn amazingly well and it is almost quicker to gybe and wear round, rather than tack if forward speed becomes slow.

After the racing John Caddenhead was experimenting with a long horizontal flexible flap extension, 150 x 50 mm on the bottom of his rudder. He was able to get his boat going really well under sculling power. Obviously this does not comply with the class rules nor RRS Rule 42, but the speed generated was very impressive indeed!
Of the eight boats, most were Bobabouts in their big rigs and as well as those mentioned Nick Burden's lightweight Buttercup and Ray Baxter's new design, with a bow transom like an International Cadet were all suffering from going out of control with too much sail offwind. Small rigs are obviously needed! No doubt there will be more developments and improvement in gear later in the year as interest in the class strengthens.

Report by Roger Stollery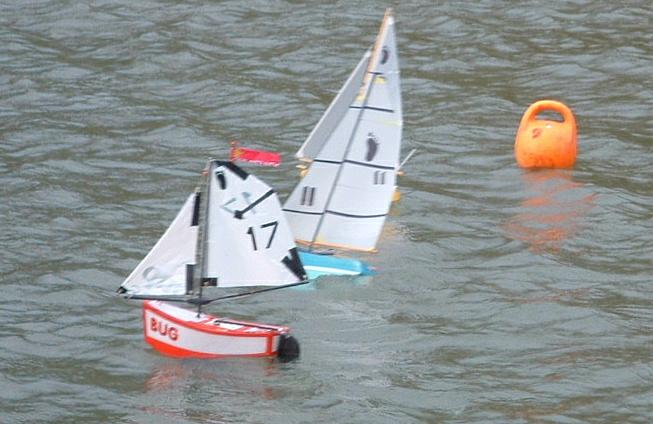 Where is the wind?
BUG, Bobabout and Footloose make a good start. BUG is sailing itself as Roger took the picture!
---