Back
From Marine Modelling International, June 2006, p. 47.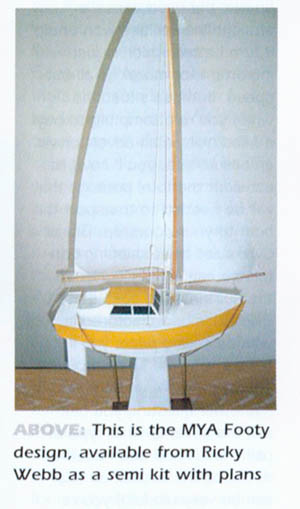 THE MYA FOOTY
The MYA Footy was launched at the AGM in November last year and was a strong presence at the Dinghy Show, partly because Roger Stollery has taken the class to heart and is well under way at his local school with his Bug design, which also performed well on the pool. Parents, teachers and grandparents showed considerable interest in the Footy concept and were keen to take home details to enable 'Footys' to be built at a later date.
The Chris Dicks award for 2007 will be awarded for the best Footy design submitted prior to the AGM in November. Order forms are available from all District Councillors, the web site and my self and a sample kit can also be viewed if required.
The MYA Footy kits are being dispatched by the well-known designer and builder of model boats and yachts, Richard Webb, on behalf of the MYA, they cost £33.50 each including postage. See our website for details of this low cost exciting starter yacht and remember to register your yacht with Bill Green, the class registrar, and we will organise a race day later in the year if there is sufficient support.
by Robert Hobbs, publicity-officer@mya-uk.org.uk
---