Return to Footy home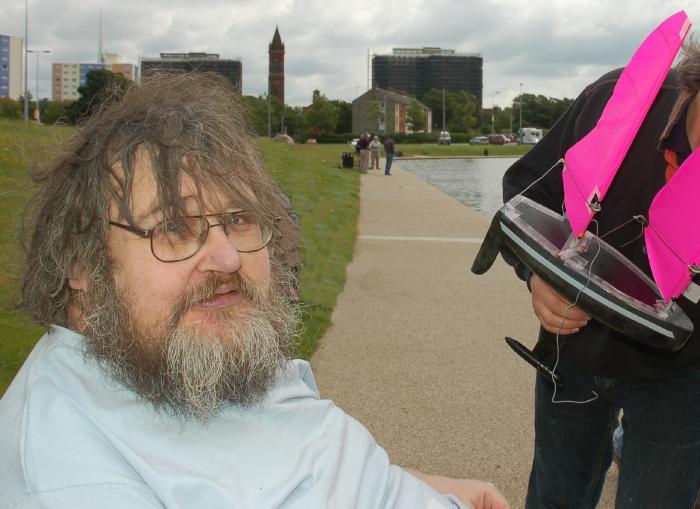 Angus Richardson
Silver tongued, intelligent, enthusiastic, distinguished, generous, indefatigable, controversial, stubborn, argumentative, freethinking, strong minded and naughty are all qualities of the Llandudno 'Viking', who died on Wednesday, 6th April 2011. The Footy world has lost a real character, one of its greatest supporters and most influential generators of world-wide enthusiasm for Footys, which he saw as having such huge potential.

Although wheelchair-bound, Angus' horizons were far from limited and his brilliant mind earned him a living from translating, linking him with clients all over the world. How he became interested in Footys is uncertain, but as soon as he was aware of the activity in the new universal Footy Class Rule set up in 2005, he was hooked. In the following year he took over the role of Footy class registrar for the UK and formed the basis of the Footy Class Association. Angus extended this beyond the UK and with the USA, New Zealand and a few other interested countries set up the Footy Charter to regulate Class Association activities world-wide, as well as helping to set up the official Footy Class website. Thanks to his influence Footys are now in over 20 countries and promise to be sailed in many more.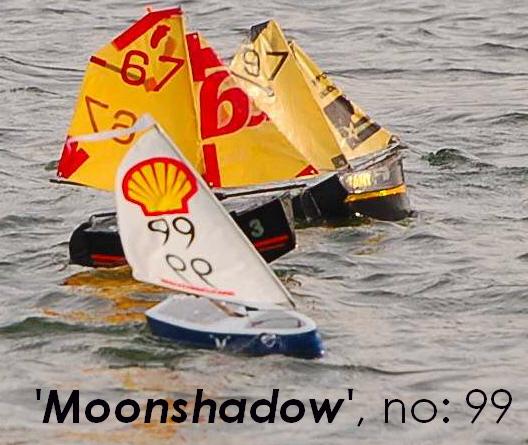 In his earlier years as part of a sailing family, he was an enthusiastic racer of full size yachts to the IOR ocean racing rules and was always interested in the design of racing yachts. He became a prolific designer of Footys, generally narrow and lightweight with immersed transoms and all sorts of rigs including balanced una rigs. He had lots of ideas about how to make his boats lighter, simpler and faster, but he had to rely on others to carry these ideas out. His designs Red Fox, Dingo, Fennec, Akela, Moonshadow, Newfoundlandi and Poodle were all published as entries in the Chris Dicks Design Award competitions 2006-2008. The Fennec hull shape was used by Australian Andrew Cook as the basis for the 507 vac-formed Footy kit. New Zealander Brett McCormac built Angus a very nice light Moonshadow hull, which was campaigned extensively in the UK. With Graham Elliott as skipper it won the second Euro Grand Prix event in Birkenhead in 2009, winning Angus the Spillane Trophy for the designer of the top boat.
Angus liked neither rules nor rule-makers after his experience of bad rule-makers tinkering with the IOR rules and contributing to the 1979 Fastnet race disaster in which several crews were lost. In the many discussions about the Footy class rules Angus' views appeared to be stuck in a sort of IOR rules time warp, that meant that any restrictions were inherently bad. This was despite the evidence from other racing classes that some restrictions are necessary to ensure a level playing field, preserve class reputation and the attractiveness to the beginner of the ultimate starter class. On many occasions at the end of conversations there were agreements to disagree! However, keen sailors and builders of lightweight Footys should be grateful for Angus' efforts to ballot for the removal of battery restrictions, as this has led to current designs sailing and handling even better than was ever thought possible.
Angus suffered poor health and on several occasions was in hospital where he received good treatment and came back from the brink to do some more stirring, pushing and cajoling in the Footy world. He was incredibly generous including paying travel expenses to those that he wanted to attend big Footy events. For this 58th birthday last year he invited his Footy friends and family to a party at his Wrexham care home, with a little sailing at a lake close by. He enjoyed the party and the attention from those who travelled from all over the country and particularly from his American friend Bill Hagerup, who flew over especially for the weekend.
He was a great character and will be sadly missed by his many friends all over the world.
Roger Stollery 2011-04-11
---